Corruption Convictions, Contradictions and Credit Alerts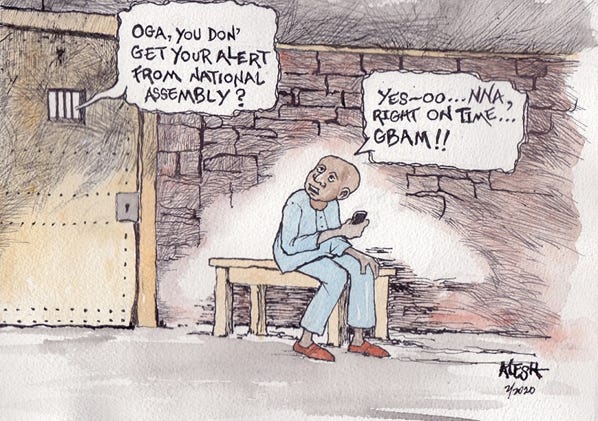 When Transparency International rates Nigeria close to the bottom of its yearly Corruption Perception Index, this is one of the reasons why:
In 2018, two serving senators were jolted out of their sinecures in the Red Chamber and jailed for corruption crimes they committed while they were state governors about a decade earlier.
Presumably, they continued receiving their salaries as senators till the end of their terms in May 2019.
Of course, there were murmurs in the media and civil society on the propriety of politicians who stole government funds receiving salaries from the same government, after conviction in a competent court of law. Lawyers also argued technicalities for and against, in the press, but not in court.
Not surprisingly, legislators of both houses had no zeal to address this contradiction; their terms were ending anyway – they had elections to win. End of matter.
Dateline December 2019: Six months into a four year term, another senator was sentenced to prison for financial malfeasance when he was a state governor in the 2000s. The previous trend suggests that Senator Orji Uzor Kalu will even as a convicted person, continue to receive emoluments as a senator of the federal republic till the end of May 2023. He is certainly not working for his paycheck where he is right now.
It goes without saying that this is a contradictory situation where corruption is actually rewarded.
The National Assembly again, will have no incentive to correct this anomaly; even if they do, it will take years to promulgate into law. So don't expect a quick fix from the red and green chambers.
Well, "cometh the hour, cometh the man". We know that even in mature democracies, executive orders by presidents are used sparingly for obvious reasons. But imagine this scenario:
In the near future, President Muhammadu Buhari promulgates an executive order forbidding any person convicted of corruption from receiving any financial consideration from government, for any reason whatsoever.
Now, wouldn't that be great…..
Sorry, did I doze off?