The Rise and Fall (for now) of Adamu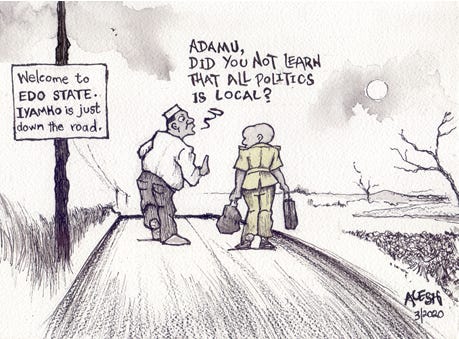 The saying 'don't kick him (her) while he is down' does not apply to politicians because they are never down. They are fair game, they always bounce back, and they love it.
The resumé of any politician worth his salt is a chronicle of ebbs and flows; a challenge here, an opportunity there; one step forward, then another two backward, with a five-step lateral detour to the left or right; a short stint in prison today, to be followed by a ministerial or ambassadorial appointment, whatever…
Irredeemable optimists that they are, they imprudently believe they can change day to night, and back again. It is this kind of disproportionate confidence that has banished Comrade Adams Oshiomole, suspended Chairman of the ruling party All Peoples Congress (APC) to the reserve bench, for now.
Surely, if not for an outsized sense of omnipotence, how on earth would the APC Chairman sign-off on a hapless tasker to the Supreme Court, fishing to get a two-week old judgement reversed? Did he momentarily forget the meaning of the adjective 'supreme' in the context of the Supreme Court? Or what?
Thankfully, the Supreme Court pronounced unprecedented fines on all those involved in this misguided mission, which will hopefully discourage future abuse.
In an ideal world, Comrade Oshiomole should have lost his job for this gaffe alone. But he was sacked (suspension is just a euphemism, he's gone) because he lost home support in his combat-to-the-death with his anointed successor as governor of Edo State: Godwin Obaseki.
Teachable moments: You would expect that with all his antecedents, residual reputational capital from his days as a labour leader, our dear comrade would have sidestepped the too common follies of former governors feuding with their successors. Power of yesterday, went with yesterday.
Also, it seems the dizzying heights of grandeur as chairman of the ruling party created so much amnesia between his ears that he completely forgot the first commandment of politics: All politics is local. When the gentleman bounces back like they all are wont to do, he won't forget that in a hurry!